Over the last couple of weeks, I've been performing live "piano bar" sessions on Clubhouse from 10pm to 1am on Thursdays.
(follow me @jamesmcaulay to get notified when I go live!)
It's been a lot of fun, and I'm really excited about the future of Clubhouse for musicians.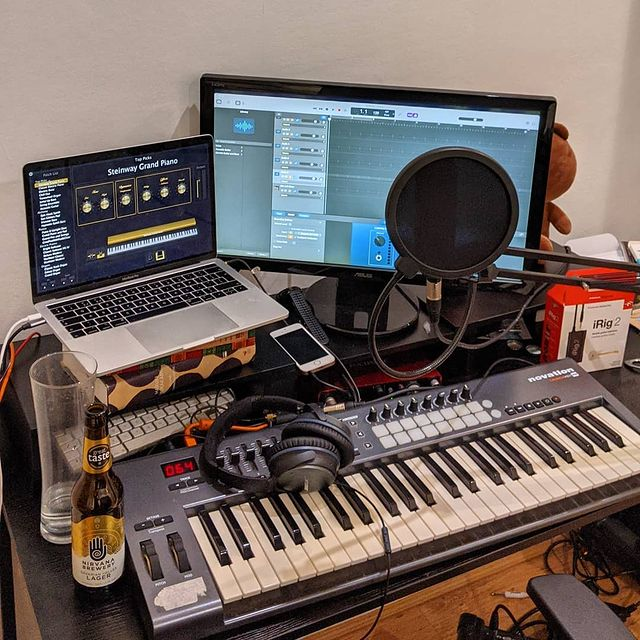 You're probably here for the technical guide, and not my opinions on Clubhouse, so I'll write about why I love the Clubhouse experience at the bottom of this guide.
So, you want to perform live music on Clubhouse?
I'll walk you through my setup, which will work for:
Musicians who want to sing and perform with an instrument on Clubhouse
DJs or Producers who want to perform any digital music through Clubhouse
Hosts who want to speak on Clubhouse with nicely processed audio (compression, reverb etc.) and the ability to add sound effects (guided meditations, game shows, etc)
Hardware you'll need:
iRig2: this takes audio from a 1/4″ cable and sends it to your iPhone as audio input

If you have a new iPhone, you'll need a USB-C headphone adapter

3.5mm aux cable: this sends audio from your laptop to the iRig2
3.5mm to 1/4″ adapter: this attaches to the end of your aux cable, so that you can slot your aux cable into the iRig2, which takes a 1/4″ input
3.5mm Headphones: the iRig2 has a headphone slot so that you can hear sound coming from the iPhone
An additional output device: you need either an amp, or a second set of headphones, so that you can hear your music
Let's walk through my setup:
Music Input
I have a Novation Launchkey MIDI Keyboard going into Mainstage (£30), which is an incredible piece of keyboard software made by Apple. Mainstage takes the MIDI signal and allows me to customise the piano tone.
You can also use Garageband for keyboard sounds, or any other software you like for processing your MIDI signal.
I also have an Audio-Technica AT2020 XLR microphone going into a Focusrite Scarlet 2i2 interface, which connects to my Macbook through USB.
The microphone is picked up by Garageband, which is free on all Macs. (I'll get Logic soon…). You can use any DAW you like to process your mic audio.
I apply a little bit of compression and reverb to my microphone, to make my voice sound smoother, and then I enable Monitor Mode on the mic track, which means my laptop plays the sound of my microphone in real-time.
So at this point, we have Mainstage outputting piano sounds, and Garageband outputting my processed voice.
Now we need to get that audio into Clubhouse…
I have a 3.5mm cable coming out of the headphone jack in my laptop, which goes through a 3.5mm to 1/4″ adapter, which looks like this:
This goes into the input slot of the iRig2, and the iRig2 is set to THRU mode. (If you're curious, you can read more about THRU vs FX mode in the iRig2 manual, but you need THRU mode for this to work!)
The 3.5mm cable on the iRig2 goes into the iPhone headphone slot, which means all audio from my laptop is now going into the iPhone as audio input.
With the iRig2 set to THRU, I can plug a guitar cable (1/4″) into the "Amplifier Output" slot (top right of the diagram) and into my small guitar amp. This means I can hear my keyboard and voice through my guitar amp.
If you didn't do this, you'd still have audio going into Clubhouse, but you wouldn't hear any of it!
Warning: be careful with levels, as you run the risk of feedback if your amp is too loud and your microphone is too sensitive.
Alternative: if you have a second set of headphones, you could send your audio output to them. You'd need to wear two sets of headphones at once to hear Clubhouse chatter and music, which can be tricky…
Hearing Clubhouse Chatter
The headphone slot of the iRig2 outputs any audio being generated by the iPhone itself. In our case, this is the sound of people talking on Clubhouse. Plug your headphones in, and now you can hear the conversation.
I tend to wear my headphones on one ear only. This means I hear Clubhouse chatter in my left ear, and I hear my music coming out of the amp on my right.
I hope you found this helpful!
If you want to hear my setup in action, I perform a weekly Clubhouse Piano Bar at 10pm GMT every Thursday. Follow me (@jamesmcaulay) to get notified when I go live.
Addendum:
Why I'm excited about Clubhouse for musicians
I wrote this after performing my first Clubhouse piano bar session on at the end of January:
Tonight, on a whim, I decided to open a "piano bar" room on Clubhouse.

If you haven't come across Clubhouse yet, it's a new social network that bills itself as "drop-in audio chat".

People broadcast a conversation (or music) in "rooms" where listeners freely come and go, and audience members can ask to be "invited up on stage" to ask questions or join the conversation.

It's eclectic, and creates unexpected, serendipitous connections that I haven't seen happen in the last ten months of scheduled Zoom calls.

My experience playing live piano on Clubhouse was unlike any live stream I've done before.

On Instagram or Facebook (and Twitch, which I haven't tried), all of your interactions with your audience come from text comments or emoji reactions. 😍 👍 ❤️

As a performer, this is better than nothing, but it feels very artificial. It's nothing like feeling the energy of a receptive audience in the same room as you.

On Clubhouse, I was able to invite people up on stage throughout the session and chat with them between songs.

I took requests, had quick catch ups with friends, spoke to several people I'd never met before (friends of friends), and generally bantered as I would if I had been performing at a real-life party. (remember those?)

It was a far cry from the awkwardness of Instagram/FB live streams, where the performer essentially talks to themselves as they reply to written messages. It's fine, but it's a monologue and doesn't match a real conversation.

I intended to go live for 15 minutes tonight, and ended up playing and chatting for 45 minutes. The conversations between songs flowed naturally, and I felt like I was playing to a room of real people, rather than talking to a silent screen of onlookers.

There's also none of the awkwardness of video chat, where people will naturally feel self-conscious if their camera is broadcast to a room of people they don't know. Clubhouse is just voice, which is nice.

It's early days for Clubhouse, but I think it's going to be a really exciting format for musicians.