2022 is off to a good start, and I've felt a noticeable shift in all three disciplines since the beginning of the year.
Swimming
The biggest change I've made in 2022 is my level of commitment to swimming.
My strategy last year was avoidant (it's not a strategy I'd recommend). Swimming was my weakest discipline, and I would regularly skip sessions, meaning it was hard to build up any momentum across weeks of training. If I had a good session, it's likely I'd forget the lessons learned by the time the next session came around.
If I'm being really honest – and I've talked about this before – I reckon my avoidance of swimming was a protection method created by my ego. It felt better to overtake cyclists in Regents Park than it did to be overtaken by pensioners in the pool.
Last year, I averaged about 2.5hrs per month of swim training in the run-up to my Ironman, with a last-minute cram before the race in August! This worked out at roughly 3 sessions per month.
This year, I'm aiming for at least two sessions every week. January swim time was 4 hours, and February is going to be 6.
I can feel a huge benefit to simply spending more time in the water, and minimising the gaps between sessions, which helps me remember "good technique" sessions.
I've also been following the Effortless Swimming 5-Day Catch Course, which has been fantastic. It's a simple course of five sessions focused on five very specific components of the "catch" phase in swimming, and I've really enjoyed this level of granular focus.
The Course is only $10 and promises "5 seconds off your 100m time, or your money back". I've only done 2 of the sessions so far (repeated a few times to really embed them into my muscle memory) and I already think I've easily shaved 5s off my 100m time.
And finally, after being a member of my triathlon club for three years, I moved up from the slow lane to the medium lane at swim sessions this month! I'm just about hanging on to the pace, and being with faster swimmers is definitely pushing me to focus on good form.
Overall, swimming is going well, and most importantly, I'm enjoying it more than ever.
For the swim nerds: my CSS (critical swim speed) was 2:10 in a test at the start of Feb, and I have no previous measurements to benchmark that against. I'm aiming to get that below 2:00 by Spring.
Cycling
I haven't made any big changes to my cycling in 2022. In fact, I think my time in the saddle has been lower in January and February than it was last year, but I've definitely spent more time doing structured workouts on the turbo.
The last time I updated my FTP (Functional Threshold Power) was way back in March 2021 during a Zwift crit race. I averaged 282 watts across 20 minutes, giving me an FTP of 268W (95%).
For the rest of 2021, I spent less time thrashing the turbo and more time building up my long-distance endurance ahead of the Ironman, so my FTP didn't budge.
Last week, my coach and I decided to carry out an FTP test to gauge where I'm at.
The plan was simple: enter an 11mi time trial on Zwift, and go all-out for 20 minutes of it.
My goal was to exceed 300 watts, and in the nights running up to the race, I would repeat "I am going to cycle 300 watts for 20 minutes" out loud to myself several times before going to sleep.
I've never been a big believer in manifestation, and I haven't spent much time practicing positive self-talk, so this felt odd and a bit "woo woo". However, I'd been re-reading a few chapter from Endure by Alex Hutchinson on self-talk and belief, and was convinced by the science.
In his book, Alex mentions an experiment where athletes practicing positive self-talk saw an 18% improvement in their Time to Exhaustion (TTE). A similar experiment saw cyclists increase their TTE performance in 35ºC heat from 8 minutes to 11 minutes! (a 38% jump!)
Towards the end of the book, Alex talks about the power of belief, and the impact of confidence when backed up by thorough training and preparation.
Obviously I can't accurately attribute any of my gains to self-talk or belief, but I definitely felt more confident going into this FTP test after practicing the mantras.
Somewhere in the back of my brain, after hearing it repeated so many times, I regarded the desired 300W result as an inevitability. It didn't feel aspirational, it felt like something that was just going to happen.
In fact, I almost wasn't surprised when the race went to plan, and I managed to hold 304W for 20 minutes. Result!
This means my FTP is now 289W, a 9% improvement on before. 😁
This also means all of my training sessions based on power zones (most of them) will now be 9% harder. 😬
An FTP of 289W is roughly 4.25 watts/kg for me at my current weight, which would place me at the low end of Cat 2:
I'm feeling stronger than ever on the bike, partly due to more strength training, and am looking forward to seeing what happens at the Ride100 race in May this year when there's no fatigue from swimming beforehand, and no need to conserve energy for a marathon afterwards.
Speaking of Strength Training…
One of the biggest lessons I learned from doing my first Ironman last year was the importance of strength training.
My heart rate, and general cardio endurance were fine towards the end of the Ironman marathon, but my legs were completely fried and I was slowed to almost walking pace by a lack of strength training.
I resolved to get stronger and be more consistent with S&C, and although it's early days, I'm sticking to the plan so far:
My strength training involves an hour of pilates most weeks (or "yoga that f***ing burns" as I like to call it 🔥), and at least one weights session using a new 12kg kettlebell, some adjustable dumbbells (between 5kg and 7.5kg each at the moment), and a series of bodyweight exercises.
Running
2021 was a great year for running, with new PBs across every major distance except the Half Marathon.
This year, my monthly running mileage is actually lower, but…
I'm feeling the strongest I've ever felt on my runs.
I caught a mild case of Covid in December 2021, which put a stop to training for two weeks.
When I returned, my heart rate during training was far higher than usual (alarmingly so), which meant dialling back the intensity and spending a few weeks easing back into training while HR returned to baseline levels.
(I also created an insanely detailed spreadsheet measuring resting heart rate, heart rate variability, respiratory rate, my HR and efficiency metrics across all workouts, and I even bought a blood pressure monitor just to put my mind at ease, but that's a story for another day)
My first proper Parkrun of 2022 (excluding a painfully hungover Parkrun on New Year's Day) was at the somewhat hilly Brockwell Park in South London, and I managed to run an 18:37 after a 7km warmup. 18:30 had been my 5k PB until last Summer, so it felt good to be cruising at that speed on a lumpy course.
Last weekend, I raced the London Winter Run, a 10k through the streets of central London.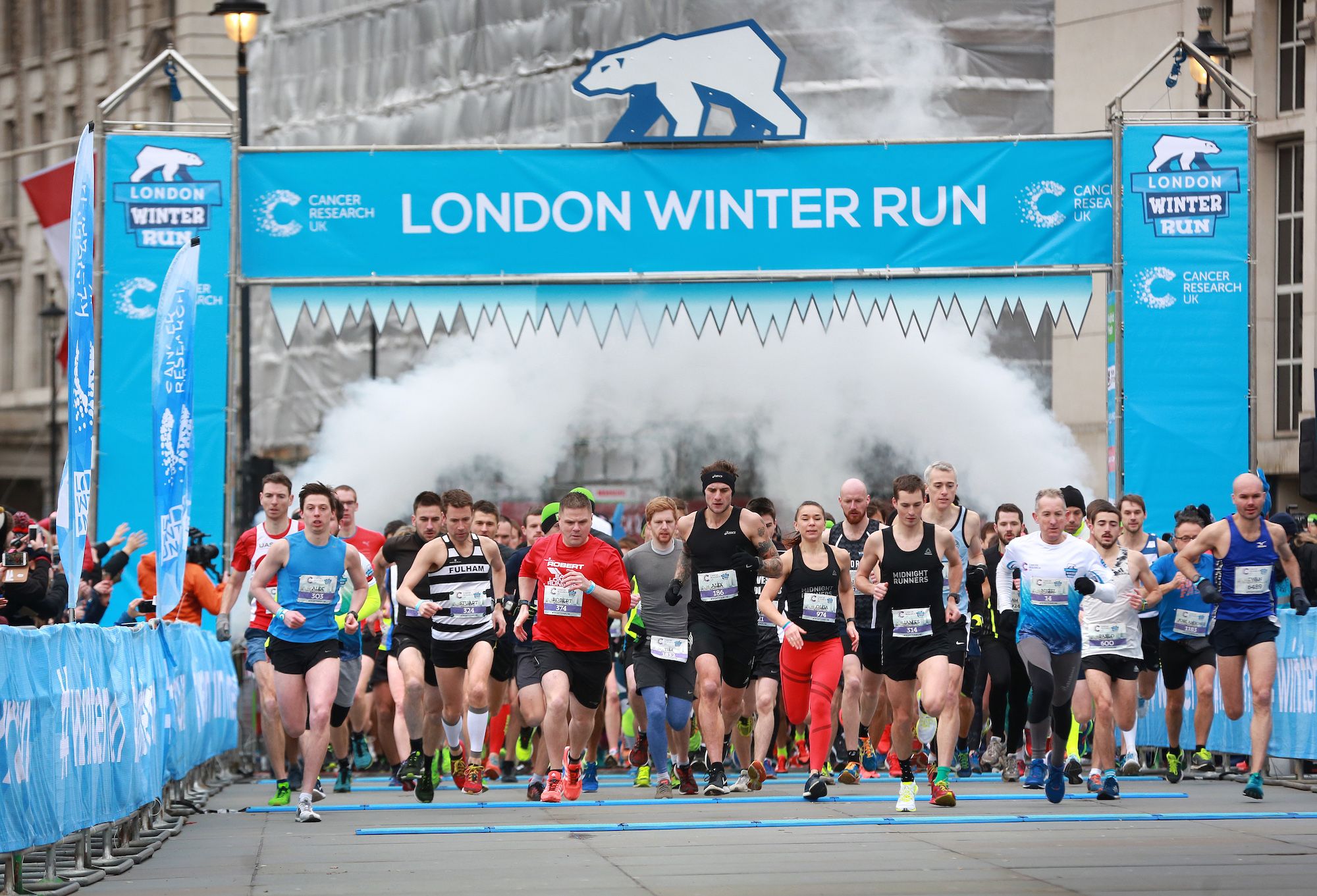 In the same vein as my FTP test, I spent the nights before the race repeating "I am going to run a 37:30 10k" aloud to myself every night before I went to bed.
Race day was chilly and a bit windy, and I was slightly nervous about getting a PB with a lower weekly mileage than usual, but everything went to plan and I bagged a cheeky 37:17!
The course was pretty twisty with a handful of 180º turns that involved almost stopping, and I reckon my effort level was an 8.5 out of 10, so I'm confident in going sub-37 soon.
I could be completely wrong, but I think the step up in performance is coming from increased strength training, and the strength/core benefits of more regular swimming. Perhaps my legs are also slightly fresher as a result of lower mileage.
Sadly, I'm not at the level of Norwegian Olympic triathletes where I'll ever have a lab of scientists analysing my every movement to ascertain where performance gains are coming from, but for now, that's my theory.
Up next:
I'm racing Cambridge Half Marathon next weekend, where I'm hoping to take a minute or so off my PB of 83:45, and then it's Paris Marathon in April.
No specific goals for Paris yet… Let's see how Cambridge goes 🤞